Financial Modeling School with Pristine
Do you want to learn how to build a financial model ... But you need the convenience of an asynchronous and self-paced online program?
We (bionicturtle.com) are proud to partner with Pristine and Chandoo.org to offer our members access to Financial Modeling School. These two companies have proven they can deliver affordable expertise while meeting the rigorous quality demands of the aspiring or working professional. Basically, our kind of people!
What do you get in these schools (key facts)?
There are two modules, you can select either or both: (1) Financial Modeling Module and (2) Project Finance Module
Here is a 58-page PDF document that contains the details of the Course Contents & Methodology
The courses are delivered online; you get your own secure login; you do not need to be online at any specific time; and lessons can be taken repeatedly
The Financial Modeling Module (14 topics over 20 hours) builds a model step-by-step from scratch: financial statements (balance sheet, income statement, cash flow statement) are coordinated, including depreciation and debt schedules; ratios (e.g., liquidity, profitability) calculated; an integrated valuation model is created (e.g., discounted cash flows); application of Excel to the concepts; and even some advanced topics (e.g., taxes, Monte Carlo Simulation)
The Project Finance Module (12 topics over 20 hours) walks through the build of a complete integrated valuation model (for emerging markets) in the real estate sector. For example, business (funding) base; revenue, asset and debt schedules; depreciation techniques; projections (building equity, balance sheet, cash flow); cashflow waterfall model; net operating income (NOI) analysis; project valuation; and scenario/simulations.
Who are the schools designed for?
This course is an option for those working in, or seeking to work in, the following fields where financial modeling is a requisite or desired skillset: investment banking, corporate finance, equity research, banking or any other related domains
When do the schools start?
The schools just re-opened (as of July 27th) and is currently open for registration! (Please note: this is not a beta test. Over 200 students have already successfully gone through the program.)
No closing date for enrollment. You can join anytime after July 27!
What is the cost?
There are three choices (and each can further be bundled with the world-renowned Excel School):
Financial Modeling Class
Project Finance Class
Both Classes together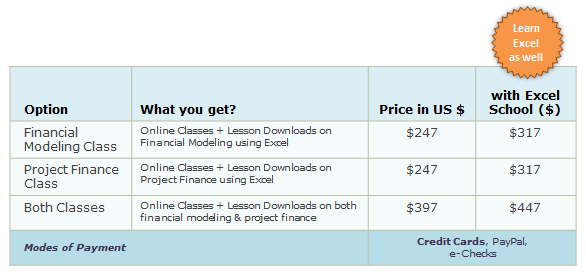 How to Join this course?
Just click here sign-up for the program. Classes start immediately.
Further Questions or clarifications?