Week in Financial Education (April 5, 2021)

This week we had a interesting question about the definition of duration due to an apparent difference between GARP®'s new material and Tuckman. It's a good chance to understand the math that underlies this fundamental bond risk measure. In external news, Archegos is a dominant story (and likely future FRM® case study). Finally, David mentions the latest trade in his equities portfolio: he purchased an initial position in Coursera ($COUR).
In the forum (beginners/new learners)
In the forum (practitioners or experienced candidates)
Coursera ($COUR) went public last week (their S-1 is here). I bought a small, initial position without regard to valuation, simply as motivation to stay informed on the company. I also participate indirectly via a long position in SuRo Capital ($SSSS at https://investors.surocap.com/) which is a public BDC that has positions in Coursera, Nextdoor, Course Hero and Palantir; $SSSS OpEx is too high, but I'm attracted to their concentrated portfolio. One fellow SA investor (at Louis Steven's excellent service–Beating he Market–which is ranked #1 in a very competitive marketplace) argues that Coursera pairs well with 2U (https://2u.com/); so I'm adding TWOU to my watchlist. Last year I switched over to Coursera Plus, their subscription service (https://www.coursera.org/courseraplus).
To work in EdTech is also to admire Coursera as an observer and a customer (does CeriFi compete with Coursera? As far as I can tell, not yet directly). At current market capitalization of almost $5.9 billion and TTM sales of almost $300 million, the trailing P/S is almost 20x. Although that's a historically high multiple, I consider last week's $50.00 price to offer a durable long-term margin of safety: given its massive TAM and moatish competitive advantages, I'd expect COUR to eventually breach $50.0 billion in market cap company (albeit at perhaps slower growth rates than are often expected by SaaS investors and their kinetically aggressive screens). Their consumer flywheel is formidable and their brand is excellent. This is a stock we can hold without worrying about interim volatility. Their flywheel includes active innovation on their sophisticated skills graph (77 million learners and >200 university partners); see their Skills Development Dashboard. In just the last 12 months, recent innovations include Career Learning Paths, Academies (for business customers) and Professional Certificates from Google (e.g., Data Analytics, Project Management, US Design). I will share much more in a future investment thesis write-up on $COUR.
Recent Posts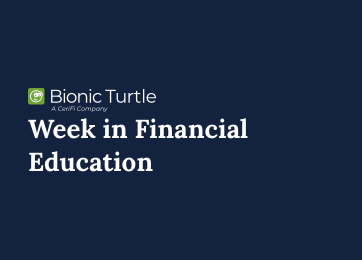 Week in Financial Education (May 17, 2021)
Welcome to another Week in Financial Education! This week saw some great questions and fascinating insights. I will just highlight the instructive example of a...
Read More
What Your Colleagues Are Saying
I took the exam in Sydney and had a similar feeling about the exam being more qualitative (but no less rigorous). However, I felt I was better prepared thanks to the BT's relentless focus on throwing real life examples and methods.
Jagan G.
I subscribed to BT for my Part 1 FRM exam and just wanted to say thanks for the depth and breadth of the study materials and practice questions. I found out that I scored in the top quartile of every topic and I absolutely could not have done this without using BT - I spent many, many hours going over the practice questions and answers! I wanted to express my appreciation and gratitude to your team for your hard work in creating these materials. Thanks!
Shu C.
The BT scripts, practice questions, global topic drills and mock exams were a great help in understanding the concepts (which I could already apply on the job!) and where structured in such a manner that the breadth and depth where optimal for exam preparation - clearly the exam would have been a catastrophe without BT!
Ivan J.
Passed first time. Happy all the hard work paid off. BT was the right choice. Thanks David and Nicole for your work and commitment.
John D.
Passed! 1,4,1,2,1,4! Thank you David and Nicole for your efforts! Thank you BT! Couldn't have done it otherwise. I'm a mechanical engineer who had a career in petroleum services, then I decided to switch career to financial risk management. Passed part 1 from the first time with top quartiles and passed part 2 from the first time as well. All with BT! BT is always the recommendation I give to people aiming at the FRM designation! Thank you again!
Feras S.
Passed Part I and Part II first time - absolutely could not have done it without BT. Like a few others I didn't even both buying the GARP books for Part II and went solely with BT materials. Just read, answered questions, watched videos, read, more questions, and... more questions! All the practice question taking looked to pay off. Thanks again Bionic Turtle for a great curriculum. Keep up the fantastic work!
John D.